Nobel Pharmsanoat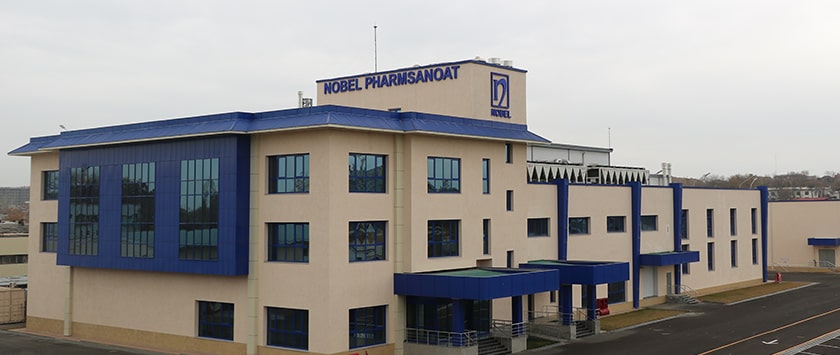 Nobel Pharmsanoat is one of the three major manufacturing bases of Nobel Pharmaceuticals in the world, which was founded in Turkey in 1964 and which has branches and representations in more than 20 countries, and it is a pharmaceutical company which has been operating in Uzbekistan since 2002 with nearly 400 employees.
It was granted the international ISO 9001:2008 in 2012, ISO 22000:2005 (HACCP) in 2014, and GMP quality certificates in 2016.
Following the decision of Nobel Pharmaceuticals to build a new world-class plant in order to improve its existing manufacturing and further increase its export opportunities, the construction of a new plant which had been started on 16th November of 2013 was completed in August 2017. Nobel supplied new manufacturing and laboratory equipment from the USA, Germany, China, Switzerland, the UK, Italy, Japan, Turkey, Korea and India within the framework of its investments for developing its technologies in Uzbekistan. The factory currently has facilities for the manufacturing of more than 60 medicines as well as physics, chemistry and microbiology laboratories, and API, boxing and ready-made product warehouses. Our manufacturing is in full compliance with the EU GMP standards.
The manufacturing capacity is 10 million boxes per year. It has 110 products covering 60 molecules in various groups such as tablets, film coated tablets, capsules, powder suspension, drops, spray and nasal spray, and penicillin.
Nobel Pharmsanoat is in close cooperation with the Institute of Herbal Substances Chemistry of the Uzbekistan Academy of Sciences on the basis of local officinal plants. Today, 3 of the 5 kinds of products manufactured with domestic active substances are exported abroad. Our newly established R&D unit in our company works to investigate and apply new molecules to manufacturing. In addition, our API manufacturing facility will soon become operational, equipped with modern technology.
Nobel's products stamped "Made in Uzbekistan" are exported to Turkey, Kazakhstan, Afghanistan and Georgia today.
Nobel Pharmsanoat attaches great importance to environmental protection and ecology. The "waste-free technology" system was applied in the manufacturing and a water treatment plant was established.